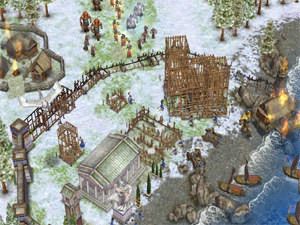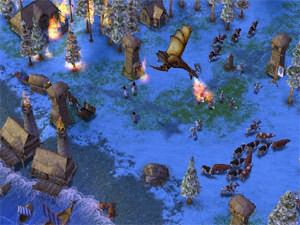 Info:
System Requirements wrote:
* Microsoft® Windows® 98/Me/XP/2000
* PC with 450 MHz equivalent or higher processor
* 128 MB of system RAM
* 1.5 GB available hard disk space
* 32x speed or faster CD-ROM drive
* 16 MB video card required
* Sound card, speakers or headphones required for audio
* Microsoft Mouse or compatible pointing device
* 56.6 Kbps or better modem for online play
Description wrote:
From Ensemble Studios™, the creators of Age of Empires and Age of Kings, comes Age of Mythology, a game that transports players to a time when heroes did battle with monsters of legend and the gods intervened in the affairs of mortal men.
The Age of Mythology: Gold Edition includes the award-winning original title and Age of Mythology: The Titans Expansion Pack.
Taking on the role of one of nine ancient civilizations, players guide their people to greatness by commanding all aspects of their empire: gathering resources, raising massive armies, waging war against enemies, establishing profitable trade routes, building new settlements, enhancing production or military might with improvements, exploring new frontiers, and advancing through four distinct ages.
CD 1:
http://l9-vr184hzh1x47uim.usercash.com/
http://kd4feg4fktm45whx0f.usercash.com/
http://kyborw5kf0smimmkmi.usercash.com/
http://mxhu9ulnauebylbup50.usercash.com/
http://mul2idltrfcb2j9hq2v.usercash.com/
http://l-rogbnpvxcn6gt8y5.usercash.com/
CD 2:
http://n3c52xzkz1k5nrsln6wp.usercash.com/
http://lpl-nqu9ac6fgx18.usercash.com/
http://krbguu7p685lxy8-aa.usercash.com/
http://ln1uw0zk6v78b142t5.usercash.com/
http://mp1z2guz1yt6ehi7xf.usercash.com/
http://mpskafr9qfti4znp6lf6.usercash.com/
Download:
CD1 http://up-file.com/download/2c2dc0943242/Age.Of.Mythology.CD1.By.GhiGGi.iso.html
CD2 http://up-file.com/download/9ae806349131/Age.Of.Mythology.CD2.By.GhiGGi.iso.html
Código:
password: www.gamedownload.com.br
OBS: substitua http://up-file.com/ por http://you-love.net/ se necessário